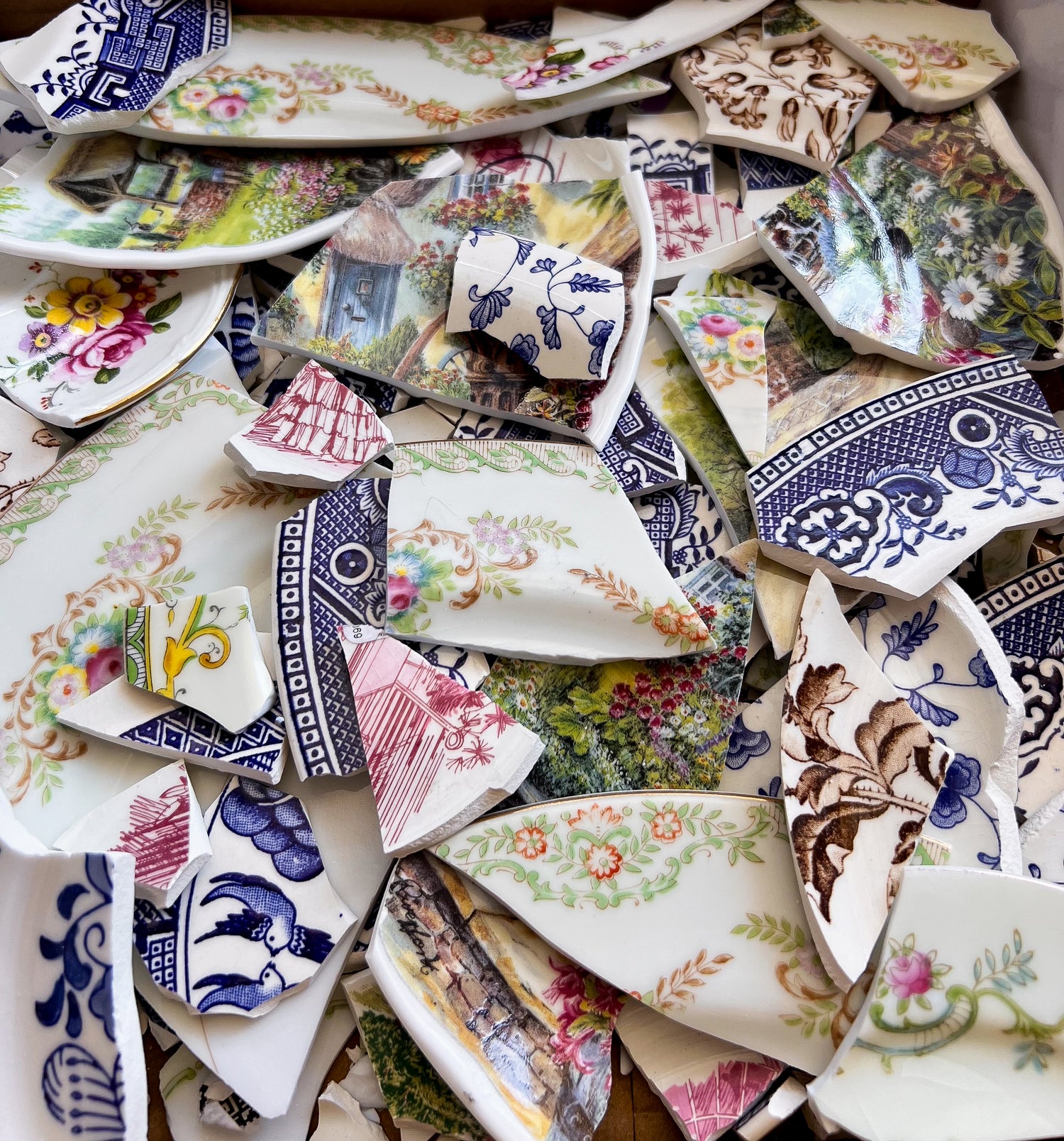 BROKEN CHINA CHARMS
Our exclusive broken china charms start as self-sourced mosaics from various antique stores. After smashing the china down into small fragments, the design process begins. A few select pieces are carefully clipped and then sanded down using a glass grinding machine. Once the mosaic has its proper shape, they are securely mounted onto gold-plated metals. Finally, each piece gets baked and cured in the oven before drafting the final design.
Fun Fact: Several ceramics in our collection can be traced back all the way to the 1830s!
And yes, all of this is handmade by me!
SHOP BROKEN CHINA CHARMS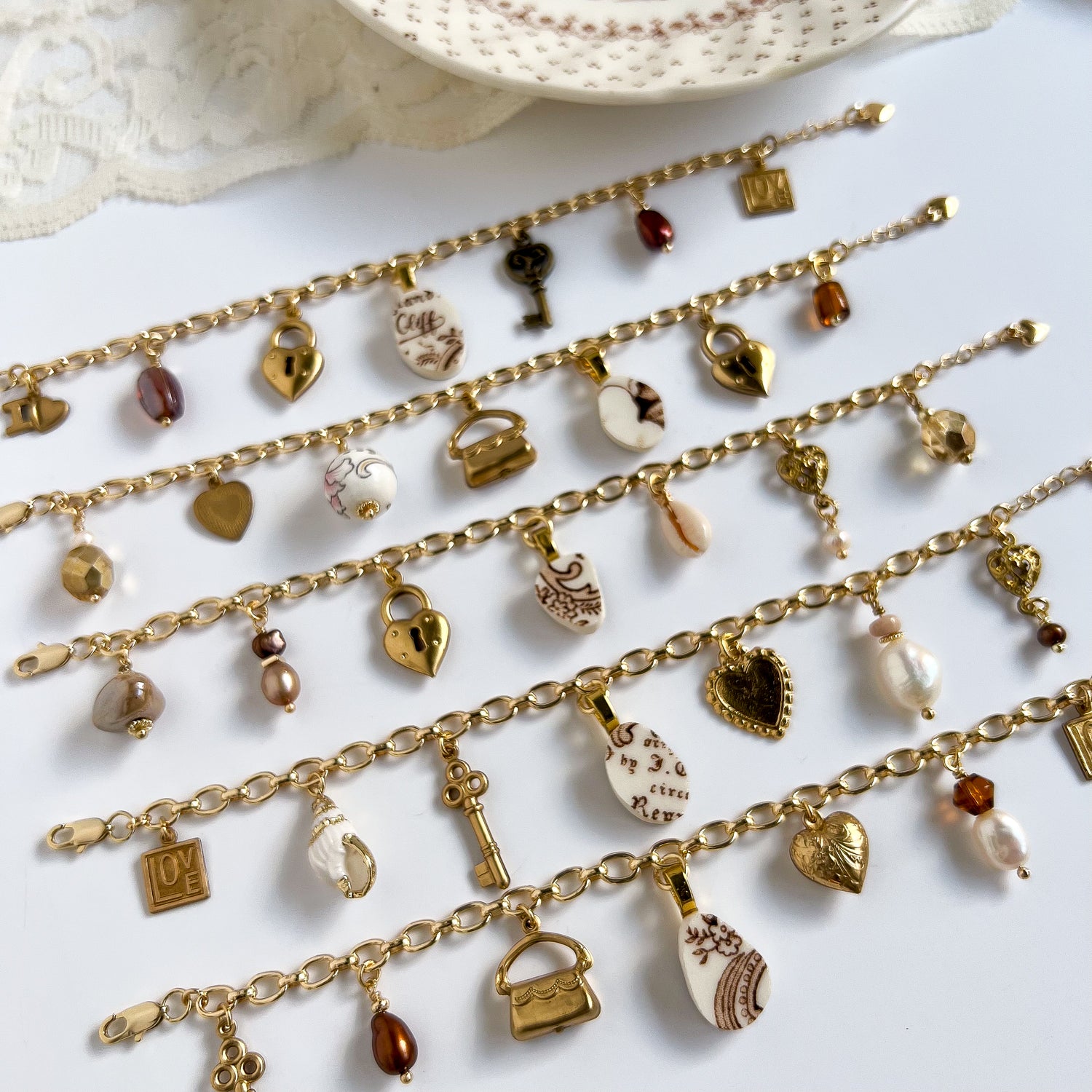 MATERIALS USED
Our materials include a harmonious mix of real Vintage Brass Charms & Lockets, Hand-painted Glass Beads, India Glass Beads, Japanese Beads, Assorted Gemstones, Genuine Freshwater Pearls, and so much more. We take pride in purchasing materials from a large network of sellers across the country, prioritizing small businesses for their unique offerings.
GOLD FILLED, GOLD PLATED & BRASS
Currently, our shop offers high-quality base metals including 14K, 18K, and 24K Gold-plated Brass, as well as Gold Filled items.
RAW BRASS: Brass in its pure state which has a natural warm, yellow color without plating. Elegant Flair polishes and adds a protective coating to all vintage brass charms, which acts as a shield from brasses natural aging and tarnishing properties.

GOLD-PLATED BRASS: Made by coating a thin layer of gold over a base of brass using a process called electroplating. Gold-plated brass jewelry can look beautiful and may last a long time with proper care, but the gold layer can eventually wear off, revealing the brass base underneath. Elegant Flair uses gold-plated brass that has an added color protectant layer, making the color more long-lasting than most gold-plated brass.

GOLD FILLED: A base metal is soldered to an outer layer of solid gold. Gold-filled jewelry is the second most valuable type of gold, next to solid gold. Gold-filled jewelry does not tarnish, fade, or chip over time. With proper care, this kind of jewelry can last a lifetime.
As we grow and learn, we're actively making adjustments to materials, ensuring the longevity of our products. Since most of our bracelets & necklaces contain vintage and handmade charms, we still advise against wearing them in water or around harsh chemicals, as color protectant coating may wear down over time.
- a note from me
Hi! My name is Sam and I'm the creative, jewelry-loving, 23-year-old girl that runs this show behind the scenes. Crafting has been a deeply-rooted passion of mine for as long as I can remember. It's more than just a hobby - it's a part of who I am. When I was 10, my best friend & I strung over 500+ bracelets & sold them at craft shows on the weekends. After countless days of sitting in the same exact spot on the carpet of my living room apartment crafting new designs for 16 hour days straight…I think it's fair to admit that true passions really never go away.
Since April 1, 2023, I've spent every second building out my jewelry collection with so many unique pieces. From hours at antique stores searching for the perfect chinaware plate to turn into charms, to testing products from hundreds of different sellers across the country, I can assure your piece was made with love.
I've poured my heart & soul into every piece that you can find on this website. I find so much joy in being able to create such unique, special pieces that can truly tell a story. I can't wait to share so many more memories with you all.
& I hope you love it too!